M.O.M.S. (Making Our Moms Successful) Annual Benefit Concert and Silent Auction
Each year, M.O.M.S. hosts an Annual Benefit Concert and Silent Auction. This is our largest fundraiser of the year. This event would not be successful without the countless hours donated by our volunteers and the generosity of individuals and businesses to our Silent Auction. Their support allows us to continue to equip single mothers with the skills, education and support to build healthy, stable homes for their children.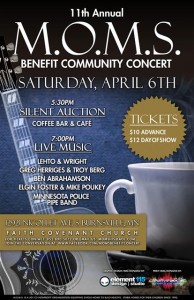 Pictures from the concert availiable on facebook:
www.facebook.com/MOMSBenefitConcert
To show our support and appreciation we encourage you to support these businesses & individuals and thank them for their donations.
Businesses:
Axel's Bonfire
Aafusion Spa Salon, Britta Swanson
Aafusion Spa Salon, Lisa Endrizzi
Apple Valley Wellness Center
Applebees
Breadsmith
Brunswick Bowl XL
Burnsville Performing Arts Center
Blue Ox
Cabi, Joan Zielke
Cellars Wine and Spirits
Costco Warehouse
Crystal Lake Golf Course
Dale Photography
Dakota Floral
Doolittles Firewood Grill
El Loro Mexican Restaurant
Elite Gymnastics
Ficus and Fig
Grand Slam
Jennifer Fritz
Jensen's Cafe
Jillianne's Party and Event Planning
Junior's Bar and Grill
Jo Jo's Rise and Wine
Lakeville Family Theater
Legends Golf Club
Links at Northfork- Mike Tozier
Miche Bags, Cindy Miner
Porter Creek
Roasted Pear Restaurant
Sam's Club
Skateville
Snuggs, Allison Kouhaut
St. Paul Saints
Superior Service Center
Skyline Chiropractic
TranSpa Nails
True Stone Mountain Coffee
Valley Natural Foods
Individuals:
Dave and Beth Bennett
John and Kyle Brooks
Eric and Krissy Kammerer
Elgin and Martha Foster
Rob and Gina Dahlin
Ernie and Ann DeLanghe
Mike and Jennifer Haas
Ken and Carrie Harpell
Guy and Barbara Jarvi
Bob and Jaymie McNamara
Sheryl Maize
Christian and Natalie Olson
Autum Olinger
Sharon Nelson
Diane Polich
Margaret Reif
Cindy Sheppard- Silpada
Glen and Barbara Thill
Paul Woell